( If
you click on
any of the reference numbers it will take you directly to the source
used by the author
rather than the bottom of the page ---live long and prosper friend :) )
Overview
In this episode the starship Enterprise has come upon a new world (Edo) where the locals are the epitome of the sexual hedonist. The Edonians are human in all respects, beautiful, healthy, tan, vicarious, unashamedly thriving in this 'better' type of Eden. They get from place to place by jogging; much like the happy go lucky individuals who drive a Prius, shop at organic stores, and make you feel fat in the park,---prancing by; smiling at your lack of culture.
Anyways problems begin to arise as Wesley Crusher accidently falls through one of the flower greeneries on the planet. The penalty for such offence is of course death.
It should also be noted that a strange ship has revealed itself in outer space. It is invisible, unknown, and a chronic nuisance. Really, this ship frustrated me. It is apparently much more advanced than the Enterprise, and it sent a 'sort of ' deity energy orb onto the bridge. When the orb spoke the earth trembled, excuse me ship. Also, it made clear that it was very worried about its Edonian children "Do Not Interfere With My Children Below!",.... pesky god.
Back on Edo they try to euthanize our boy Crusher, but Riker
stops the proceedings. It appears as if the locals hold firm to the old law which was divinely handed down to them by the pseudo-deity. Therefore Picard m
ust choose between respecting the cultural law of the land --upholding the Federation's prime directive. Or saving Crusher.
Digging Deeper into the god of edo
This god is a nuisance at best, meddling in the affairs of these locals. Why must you impose your law upon them, leave them alone, aren't you a little egotistical if you need to have these lesser creatures continuously bowing down to you?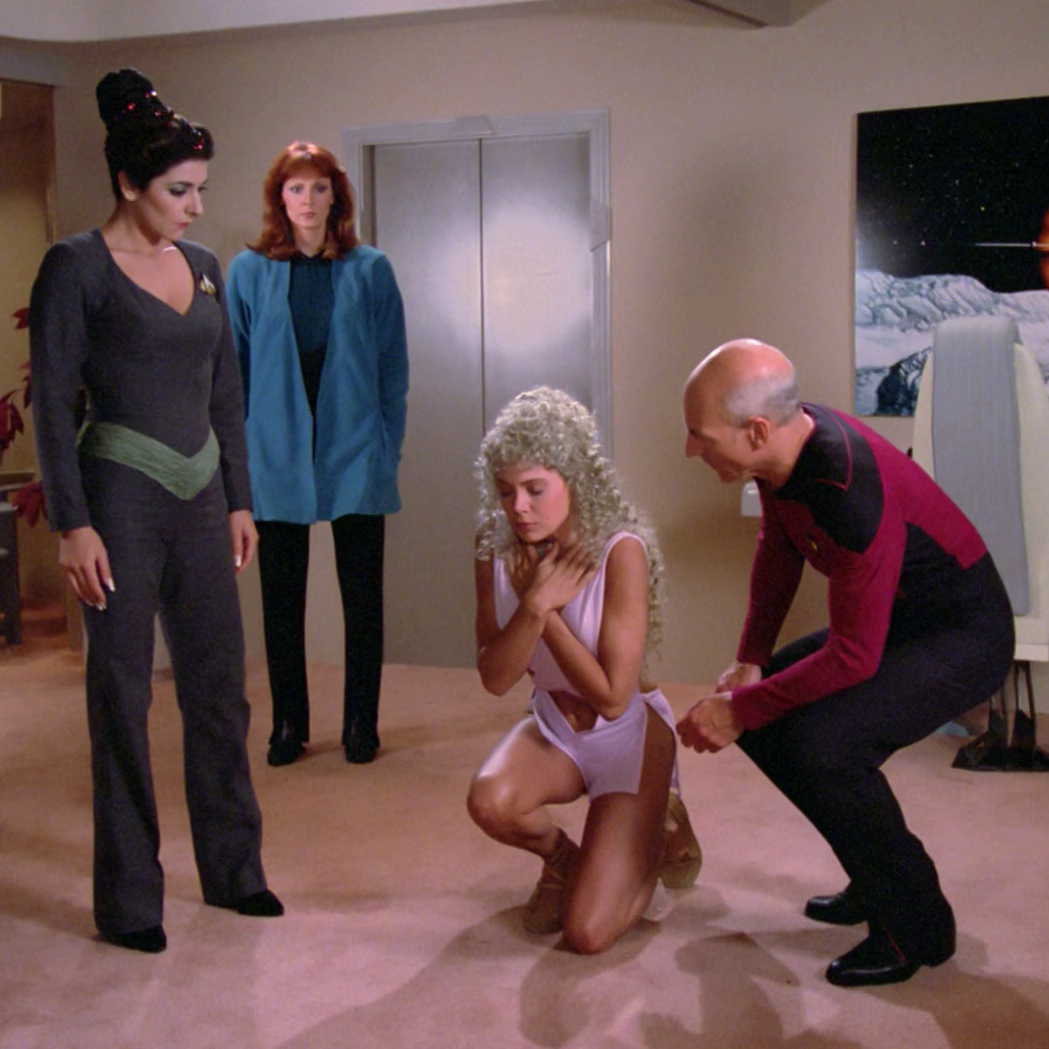 Also, hitting even closer to home for us sapiens is the scene where Rivan comes aboard the Enterprise thus beholding the unknown god in the outboard viewer. Dropping to her knees she stammers, "You who are here in the sky with our god, you also must be gods" Silly girl, if you weren't so op
pressed, ignorant, and backwards you would understand that you are being
deceived. Everything before you is exhaustively explainable by science and technology. Your pretense and need for a divine authority is outdated, neanderthalic, at the very best medieval. But we will correct you, 'No we are not gods, because if we said that we would be ridiculous, but deep down for all intensive purposes , sure we really are. Through science and technology we are beyond this primitive socio-psycho-biological need for a god.' 'We have reached the heavens, we have broken the planes, truth is us, we go our own way'
Will the real god of Edo please stand up?
The inhabitants of Edo do not actually worship their pseudo-god. In fact their god is their appetites, they are sexual hedonist. If we were to have a conversation with an Edonian it would be found that the focal point of their very existence is fulfillment in sexual gratification, sensual liberty, and unabashed promiscuous ecstasy. Their impersonal god is perceived as good to them (very annoying to me) and far off. He gives the basic law; whatever, but now we are able to forever indulge in what matters most, sex.
We have taken the course of edo, or at least we have moved forth with this chop licking view in mind. We figure the best thing ever would be true natural organic unrestrained sexual freedom ---exploration, but dont be deceived
----we will not find Edo. For we are already upon this frame.
We want edo, but we've gotten something else.......
Want to know what is paramount in your life? A good indicator would be your banking statement. In terms of finance between $10 and $14 billion a year is spent on pornography --state side. That is more than the combined revenue of pro baseball, basketball, and football teams combined. That's more money than the United States of America spent on foreign aid this last fiscal year. In terms of sexual assault, one in four women will be assaulted/raped at some point in their life. The same is true for one in six men. And the age of sexual abuse is getting younger and younger. Children watch
t.v. and pornographic videos(
the average age that a person sees their first pornographic video --Eleven)
and then emulates these actions on their peers(2), during my undergrad we were forced to read the account of a 10 year old girl who had become impregnated by another ---10 years old! Sex sells, it abounds in the media, it abounds in the most ridiculous advertisements of hair, water, deodorant, and lettuce. It permeates our culture like an effusive volcano wreaking havoc on marriages, children, families, teachers, clergymen, politicians; it rivets the soul leaving shucked out carcasses.
A strange case......
It ends in a dualistic lifestyle; a dastardly fiend being birthed out of you "
In the beginning, it(the craving of sex) fuels this kind of thought process(I want more & more kinky/risky) . Then, at a certain time, it is instrumental in crystallizing it(your unnatural cravings), making it into something that is almost a separate entity inside."(1) It ends in fear and enslavement, worried when your wife sits down at the computer, panic when your friend start browsing your phone, anxious when you realize that your secretary really is horrible at keeping secrets. Sex having become an ultimate thing becomes a demon, that which was perceived as an endless teeming banquet rears up from the floorboards as a domineering beast allowing you no rest, driving your shattered torn soul into the ground like a weathered limp cloth floating aghast through the air, falling toward an endless black sea of angst.
"There comes an end to all things; the most capacious measure is filled at last; and this brief condescension to evil finally destroyed the balance of my soul."(6) No doubt some of you will not see this as a bad thing, or even notice a bifold presence within you. "This is fabulous! Sex in every fashion: internet, random, paid....it is great! This is what I am all about, and it just seems to be getting better and better. Why should we ever limit such a thing, it is an appetite ---we must feed it for natures sake!" I resign that if you be in such a condition then your state is of the utmost perilous . Let us soon dig into why.
"Gott ist tot"
The pseudo-god of Edo is nothing like the actual God of the bible/cosmos, for the God of the bible is indeed outside of the universe. Put it to you this way. God spoke the universe into existence out of nothing(ex nihilo), not only as a command, but also as a dialogue. An exchange outside of the temporal/corporeity between God and the perfect complete essence of his view of himself which is eternally, always, and completely Jesus Christ/God. Therefore, all 300 sextillion stars that we see(or don't see) in the sky are suspended like a pendulum ball by the two cords of the non-temporal/material/divine, and this foundational/creational dialogue is the makings/upholding of the finite. Now don't get alarmed I am not talking about theistic watchmaker(no longer involved in any part of the universe). For we have not only the two foundational pillars of upholding, but also a breathing/growing of all life and non-life(dialogue) at all levels through the last 14 billion years in creation(5), and this process should be thought of in an intimate way, for here we have a God who is personally working at the element level in all matter in all of the universe --constantly sustaining it through natural laws.(3) This interaction/thought reciprocating is the work, works, and workings of the Holy Spirit; being completely, fully, and trinitarianly God.(4) Therefore we shall never find God revealed in the universe. We shall certainly discover and realize all about us and the cosmos, longings/pointers to that which He is, but never him fully Him ------at least in a finite form.
Hold the phone!
"But wait!", you say "Christians don't believe that! You have your silly cross, and your irrelevant/outdated faith in that pacifistic hippy Jesus."
an auditorium for displaying
Somethingner &
Nothingner friends
If you and I lived in an audtiriom that was completely closed off, we were born here, grew up here, and never at anytime had any of our previous ancestors been outside. Then it
is
determinedly
safe to
say that we would never know anything at all about what lay beyond the auditorium. We could speculate. No doubt factions would arise. The Somethingners, believing there was indeed something beyond those barred off doors, would hold rallies and conference; telling others about the something that was beyond the auditrium. Somethingers are naturually creative, artistic, emotional, and spiritual types; they would win many converts. But then also we would find the logical, stoic, pensive ones. They dont assume anything, because we all remember what our mothers told us of the instances when we assume. So they in a stereotypical fashion, would call themselves the Nothingners. On and on time would go, and we would be no better off. Yet, at the same time we would be very happy, though we may or may not have a belief in something, as long as we never knew anything conclusively about the outside of the auditorium --never would it have any gravity upon our lives.
But imagine this. One day --just as any, we are going about our usual business in the auditorium when suddenly the most frightful thing happens. The very ground below our feet begins to jolt too and fro in a most violent fashion! And as we are falling prostrate to the ground a foreign invasive smoke fills the full of the auditorium, top to bottom. Oh the fear of it! Then suddenly the very doors that have been bolted shut through all time are impetiously split open! Rendering apart like a taunt veil cloth --tearing \ as a gigantic firework
through the sky
with an equally
deafening roar.
Then to our greatest astonishment a shinning individual walks through.
He lives with us for three years and teaches us many things. He tells about the great beyond; the outside of the auditorium, he explains that we all will one day soon venture out of our confines --death. He tells us what it is like, what to expect, how to prepare ourselves for it. What the auditrium is really all about and for. Then, just as suddenly, he leaves.
At this point everything in our auditorium would change. No longer would we have Somethingers or Nothininger, but rather a new way of classifying individuals would arise. It would be discovered that on the one hand there would be Followers , those saying
"The whole auditorium is for the display of the divine goodness, wisdom, justice, and power of the one who came to us, everything is about him. He has entered into creation; that whom was playwrighter, has shockingly ingressed into the very drama which he has spoken!" then on the other hand there would be the Deniers --- in many forms and fashions, but their rallying cry would be something like this. "I cannot trust that man who supposedly came into the
auditorium
--the things he said.......after all, what if he was lying to us? Plus he came so long ago, not a single person alive today actually saw him with their own eyes! And the people back then! They were so superstitious. In fact it wouldn't surprise me if he never existed at all --the man that came into the auditorium ---the legend. Now that we fully understand the scope and function of the auditorium let me say --it is prevailing fact and common knowledge that we should never need. Never expect. Nay, never presume that their is any such complexity beyond! I am content now, and will only worry myself with what I see before my very nose"
And thus you would have individuals who either 1. Continuously wish to make much of the man who came through the door. -- They believe him, they love him, they build their lives around him. Though they do not see Him, they know Him. Or 2. build there lives around something else ---philosophy, religion, status, fulfillment , anything conceived or
perceived
getting to the bottom
No word sums this up better than
epithymía;
it is a greek word,
epí
---focused
on/ ultimate
and
thymós
----passionate desire.
Every person has an
epithymía;
it could be
anything really ----(good or bad) ---
a belief, an object, a person, an ideology. It is essential what causes a person to say, "If I don't have this, if I am unable to get this, if this is taken away from me, then there is no reason for me to live on ---Life is meaningless. This object, person, thought, religion, or idea is at the very core of the person. It is the bottom of the bottom.
I recall as a child, I would often stroll along the untamed fields next to my house. Happening
upon wild onions I would yank them from the ground, and just like the supermarket kind I could peel them down layer by layer until I eventually got to what literally looked like the heart of the onion, ---there were no more layers, it was simply
the core. I now know that this part of the onion is the apex/axillary bud, and it is not only the core, but also the part of the onion that generates all outside layers.
the bottom of your Joy
Going towards the bottom...never make it.
And at the very bottom of every person, whether they acknowledge it or not, this question is asked "Do you feel more loved by God because he makes much of you or because he enables you to enjoy making much of him." Anyone who claims to not believe in God falls into the first catagoty --they felt like God wasnt giving them what he owed them, or something akin to that. So it might be something like scientific evidences, a loved one, health, the right job, the win for the big game, overcoming tragedy. Whatever the case they now deny him because he did not produce what was truly wanted. So this question definitively winnows out what is at the very bottom of your joy. But what does that mean 'bottom of your joy'? In yourself you have different joys --things that make you feel happy, give you a sense of fulfillment security, and purpose. Therefore all your joys have a foundation ---except one. Any happiness that you have ---there is a foundation to it. But at the very bottom of who you are, there is no foundation, it is the bottom. Let me hash this out to you. Lets say you make an A on a test. I say "Why are you happy about the A , who cares?" You might then respond "Because it makes my mom happy, or I get the praise of my teacher,-- its the key to getting into a good graduate college." We have peeled off two layers of the onion. "So why grad school?" "Because I want to be a clinical psychologist, this A helps me to move toward this goal." We are now another layer down. "So why do you want to be a
clinical
psychologist, why is this a
feeder of your happiness?" "Well I have had some experience with this and seen how much someone in this position can be helpful. I want to help people by knowing them in this way and coming alongside them and working through their problems." We are now four levels down ---we are getting very close to the bottom. " Why does making people happy make you happy." Here it is, we have arrived at the bottom. There is nothing else here, it is the bottom. Where you end up at the bottom of what brings you joy is
who you are
. The questions stands
"Do you feel more loved by God because he makes much of you or because he enables you to enjoy making much of him." The driving force will either be Self or God. That is it.(7)
What is Christianity?
A new species of mosquito; developing recently in historical times
Christianity is a complete change of desires at the very bottom. A Christian is a person who has come upon the reality of who Christ is, what he has done, and this has changed them in such a foundational way that you could say that they have, figuratively speaking, been born again. For they have suddenly become a new creation. In fact the very auxiliary bud, the bottom of who they are, has been changed --it is a new species, and in time you will see that the exfoliating layers are no longer that of an onion. Being a Christian is not having the same desires with a different courier It is not the same luggage with a different bellhop, it is not the same meal with a different butler. It is a complete swap of desire, for suddenly at the very bottom we find and see an individual who is now, miraculously, desiring God. Dont be deceived many people realize the reality of hell, they say "I've got Jesus now --fireproof " You were just worried about your own skin, your desires didnt change. It wasnt a desire for God that led you here, it was self.
I wonder.....Do ya know Him
What is at the bottom of your joy? What is your ultimate desire? No doubt we have seen the destructiveness of misplaced desires -we are not Edo we have become something else. Self leads to destruction. If you could have heaven(anything you want) without God would you still want it? Look deep into your hear
t. What does your life glorify? A day is coming when we'll now. Is it self or is it God. These are different people different worlds, different destinies. Truly, it all hinges upon this Jesus character. He says of himself that he is the only way to come to a place where you truly desire God at the bottom of your heart ---the bottom of your Joy.
1.
Dobson, James
Fatal Addiction: Ted Bundy's Final Interview
January 24, 1989
http://www.pureintimacy.org/piArticles/A000000433.cfm
2. Driscoll, Mark
THE PORN PATH
March 04, 2012
http://marshill.com/media/real-marriage/the-porn-path#transcript
3. Horton
,
Michael
The Christian Faith: A Systematic Theology for Pilgrims on the Way Part 3 - God Who Creates Ch. 10. Creation: God's Time for us. Zondervan (2011)
4. Piper, John Love Seeking Understanding: A meditation on the Trinity
DG (1984)
http://www.desiringgod.org/resource-library/taste-see-articles/love-seeking-understanding
5. Edwards, Jonathan An Unpublished Essay on the Trinity
http://www.ccel.org/ccel/edwards/trinity/files/trinity.html
6. The Strange Case of Dr. Jekyll and Mr. Hyde

by

Robert Louis StevensonJekyl http://en.wikipedia.org/wiki/Strange_Case_of_Dr_Jekyll_and_Mr_Hyde#Dr_Henry_Jekyll_.2F_Mr_Edward_Hyde

7. Piper, John Getting to the Bottom of Your Joy @Passion Atlanta, GA
January 3, 2011 r